Tag: fish
by Lizhen on Mar.24, 2009, under Chinese Soups, Cooking
When I was still in my childhood, there was still a lack of food, that was a crazy time for China, so many things seem so stupid and ridiculous nowadays, however, the people in my hometown didn't suffer so much from the food lack, because we have so many fish around. I never get enough about fish.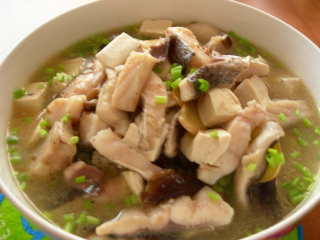 Ingredients:
1.Chinese chub(2 kg without head);
2.4 pieces of bean curds( Dou Fu);
3.4 mushrooms;
4.4 pieces of ginger, salt, cooking wine, spring onion.
Here comes the steps:
1. divide the whole fish to 3 parts: one spine and two pieces of fish meat, chop the fish spine to several chunks, cut the fish meat to pieces ( the fish pieces in the picture were all about 1 cm thick), stir salt and several drops of cooking wine with all the fish, and leave them there for half an hour;
2. meanwhile prepare other materials:cut the bean curds to 1cm×1cm×1cm cubes, cut the mushrooms to pieces;
3. hot wok and hot oil, put ginger in first, then fry fish spine chunks for 2 minutes, pour some hot water into the wok( fish chunks are just totally covered), wok covered and keep boiling slightly for 15 minutes(you can find the soup become a little bit milky white);
4. put mushrooms in and cook for another 5 minutes, then put bean curd cubes in, another 5 minutes;
5. time for the fish pieces, lay them carefully into the hot soup, don't stir them, otherwise the fish pieces will fall apart;
6. when the fish pieces' color changes to white, the whole fish soup is ready, decorate it with spring onions!
2 Comments
china, Cooking, fish
more...