I found it seems we Chinese really love to fry food, and we pay a lot of attention to the appearance of dishes, so it's normal if you see your radish dish is served with the shape of a funky duck or a gorgeous flower.Hmm, I am not a cook, i would appreciate my kitchen so much if it produces yummy food, even without beautiful appearances.
Here comes a "pretty" dish, also has nice taste:-)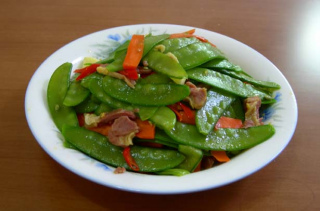 Ingredients:
1.200g of preserved ham: clean it first and steam it for half an hour or cook it for half an hour;
2.400g of Sweet Abroad Peas(actually we call the pea "Holland Pea")
3.2 chilli, salt.
There are more details:
1. cook some water with several drops of oil and a little salt, when water starts to boil, throw the peas in for 1 minute, then take the peas out and put them into cold water to cool down;
2.cut the preserved ham to pieces,hot pot and hot oil, then fry the chilli a little bit before put the ham slices into the wok, fry the ham until you can see the colour changed a little bit;
3.put peas(without water)into the wok,fry a little bit, some salt, then it's ready. Easy, hun? It is a normal Chinese dish.
Attentions:
1. the preserved hams are normally salty,so be careful about how much salt you will put into the dish;
2.don't fry the peas too much, otherwise they will lose their beautiful green colour:-)